Sex workers  dance for prospective clients in a bar in the red-light district, Pat Pong, Bangkok, Thailand. Image credit: Flickr user Alex Wright via Creative Commons 
Two women are making headlines throughout the Bay, using their talents to address human sex trafficking-one of the Bay Area's largest epidemics. Tracie Collins and Regina Evans, both playwrights, have come out with their own production aimed at bringing awareness to sex trafficking.
[RELATED POST: Sex Trafficking is Still an Issue in 2015]
Regina Evans, an Oakland artist, business owner, award winning playwright, and self described Modern Day Abolitionist is bringing attention to sex trafficking by using her creativity with her award winning one-woman show,  52 Letters. Evans believes that using artistic mediums to address social injustice allows for people to understand social problems more completely.
"I think that the arts add an important textured layer to attacking social justice problems," said Evans, "it provides a foundation where the realness of emotions can rest. I think that providing stats on an issue is important, but it's also important, even more so in my opinion, to tell the stories of those seared by issues of injustice."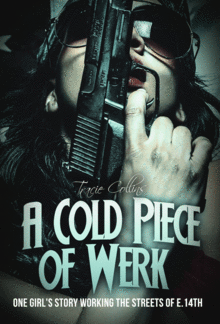 Also pioneering against the Bay Area's sex trafficking epidemic through her plays is Tracie Collins, writer, director and producer of the Oakland production Cold Piece Of Werk (CPOW).  "Living in Oakland, I could not ignore the issue of sex trafficking. I mean, it's all around you, you can see it on the streets," said Collins. "I knew my talents as an artist, and that I could address this issue through my writing, so that's what I did."
Using art to raise awareness of sex trafficking has not always been a smooth ride. Collins described her experience researching for CPOW as one that was met with resistance, and struggle. "I think people just didn't take me seriously. I made attempts to speak with Oakland PD, the District Attorney's Office, and even other non-profits and none of them would speak with me. I don't think a lot of people understand how effective a production like CPOW and other works can be in addressing these issues. They look at you as an artist, and they just do not take you seriously."
Evans described a similar experience, noting that she struggled in the art community before people began to take her seriously not just as an artist, but as an activist as well. The resistance that both women faced ties into the notion that what artist have to offer when it comes to solving social issues is somehow less valid than politicians.
Utilizing art for social change has a long history in Bay Area as an effective way to address major social issues. The Bay Area art scene has helped funnel many issues into national movements. Campaigns such as the fight for LGBTQ Rights,  fair labor laws, artwork on Police Brutality, the Chicana/o movement, Black Lives Matter, and the struggle for representation of immigrant and "UndocuQueer" communities, all with rooted ties in the Bay Area art community. There is a reason so many movements have been spearheaded by using political artwork to comment on social issues.
[RELATED POST: Women Spearheading a Generational Movement]
Collins explained that 'Artivism'  allows people to connect to a cause in deeper, more meaningful ways.  "Art offers something that cannot be expressed in a statistic, speech, or political campaign. When you push these issues into the world of Arts and Entertainment, you have now created a stage for people to observe, and better understand the problem; people can now connect to it, and empathize in a way that they couldn't before. We have politicians that are addressing these issues, we have non-profits that are addressing these issues, and a lot of the time it still isn't doing anything. You can't just address one side of the problem and expect it to go away. You have to tell the whole story. These girls didn't just wind up here, there is a reason. Something led to this happening to her. That's what I do in my production. I give them a voice. This is what art allows."
Collins and Evans are making their own mark on the long history of Bay Area artivism, in which they are not only reversing and redefining the narrative of the survivors of the sex trafficking industry, they are also creating a more holistic view of the epidemic. "The survivor voice is very important and needs to be listened to," said Evans. "It's that voice that my work is demanding be heard. We need to show that these girls are not just victims. My art does this, it gives a voice to the voiceless."
I Am Somebody's Baby, Somebody's Child." Written and created by Regina Evans
Featuring Victorie Cole, budding actor, and Jessica Cole, singer.
Haley de Genova is a UC Berkeley graduate, where she studied Ethnic Studies and Human Rights. She is a legal assistant for a non-profit in SF, and in her free time enjoys hiking in the East Bay regional parks, local politics, fighting for human rights, and shark week. She resides in Oakland.