Women Sentenced 30 Years In Prison For Miscarriage
Earlier this week, an Indiana woman, Purvi Patel, was sentenced to 30 years in prison (10 of which will be suspended)  after being found guilty of feticide and neglect for what Patel alleges was a miscarriage. Patel showed up bleeding at a hospital after depositing what she said was a stillbirth in a dumpster.
Indiana state prosecutors version of the story, as pointed out in a recent Feministing.com article, is one of contradiction. Patel was convicted of illegal abortion of a fetus after purchasing illegal abortion pills online  and abandoning a live fetus after delivery. In Indiana, it is illegal to terminate a pregnancy after 20 weeks gestation.
In case you were wondering, prosecutors were unable to determine how far along Patel was, no abortion drugs were found to be present in her system, and there is no proof that the baby was alive after birth.
Mothers Go On Hunger Strike At Texas Detention Center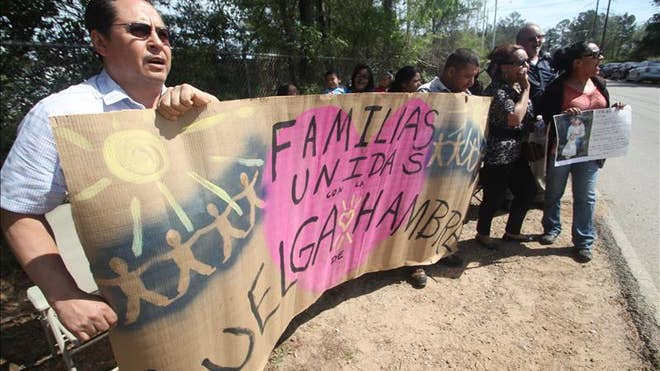 At a detention center in Texas, women have declared a hunger strike until they are released. At the Karnes family detention center, 78 women have signed a petition that states they will no longer use facility services until asylum has been granted to each one of them during holy week. Most of the the women are seeking asylum from countries in Central America, mostly from Honduras, El Salvador and Guatemala.
Michelle Obama Presents At Black Girls Rock
FLOTUS Michelle Obama presented at Black Girls Rock taping over the weekend (to be aired April 5th on BET), and, of course, the internet responded. After Obama's personal aide posted a photo on FLOTUS' official Instagram page, some people responded in anger for Michelle attending the event.
Just don't understand why woman in general are not included. I'm sure any woman will tell you discrimination is not limited to black woman. I like the sentiment I don't like the selective support-Via Instagram user
Fourth Grader Becomes Official Ambassador For Women on 20s
https://youtu.be/7dfREj6kOAA
On Tuesday, 9 year old Sofia became the official junior ambassador for Women On 20s, the nonprofit organization set to remove the seventh U.S president Andrew Jackson, replacing him with a notable woman in history by 2020 in honor of the 100th anniversary of women's suffrage.
After learning about women in history during school last year, the fourth grader went home and asked her mother to help her write a letter to President Obama to include women on U.S currency. The first round of voting ends Sunday where the top 4 nominees will face another round of voting. Among the contenders are Sojourner Truth, Rachel Carson, Rosa Parks and Harriet Tubman.
 Adult Women Deliver Powerful Messages To Childhood Bullies
In the latest installment in Buzzfeed's thought provoking video series, women respond on camera to childhood bullies who shamed them for their physical appearance.