Needless to say, we are hella excited for Insecure season three.
WARNING — Insecure spoilers ahead
By Rachael Edwards
HBO's  Insecure wrapped up its sophomoric season last night. Fans are wavering on whether or not the show ended on its best foot. This was a season that was frustrating and made me throw my phone at the end but the season finale tied some loose ends and made us hopeful for the third season of Insecure.
Molly navigated the corporate world as a Black woman and discovered she is getting paid (significantly) less than her white colleagues. Office politics can be a touchy subject because its roots run deep into respectability politics. Recall when Molly asked the office assistant in season 1 to tone down her blackness, encouraging her to learn the art of code-switching.
Molly quickly learns that code-switching will not save her. It was disappointing to see Molly so out of touch with this reality and wading in respectability-swamps. The implicit biases projected on women of color is a huge part of the reason why Molly is not getting paid at the same rate as her white (men and women) colleagues. Season two of Insecure concluded with Molly putting Dro to the side to focus on her wants and needs. This is what we needed to see and what fans clung onto because stability in Molly's life was imperative. Watching her get down with her colleague Quentin (Lil Rey Howery) was refreshing, especially since they were not interested in entertaining white people at the firm. Molly had the most interesting storyline this season.
I dare not praise this exciting episode's success without bowing down to the women played in it.
By Rachael Edwards
[Warning: spoilers ahead]
A girl is still recovering from last night's Season 7  
premiere of "Game of Thrones". My voice is hoarse from screaming every other scene, and my edges have fallen off from how flawlessly this show can juggle fifteen thousand storylines.
Historically, GoT's represented women as strong, but still disposable. With heavy criticism from fans who watched women characters being sexually and physically abused, the show seems to be taking a 360 degree turn, redeeming these characters with esteem and in-depth storylines.
I dare not praise this exciting episode's success without bowing down to the women played in it.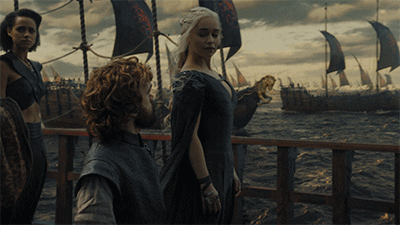 1.
Arya Stark:
The opening scene is Lord Walder Frey giving a toast to the men that aided him during the Red Wedding. The men raise their glasses and take a drink. Lord Frey, visibly, does not. He talks to them about how they killed all the Starks, save one. All of a sudden we see the men who took a drink begin to choke and grumpy ass Frey peels his face off  and well damn, it's fucking Arya.
Fuck her damn hitlist - Arya is not just going out for key players, this girl time to take out their supporters.
Was I the only one who cackled when she met up with (peasant) Sheeran and crew and she told them she was going to kill Cersei?  They thought she was kidding. I'm dying to see what more damage she is going to do to her enemies.
2.
Sansa Stark:
Sansa, you're doing amazing sweetie. I almost threw my drink when she talked all over her brother, Jon Snow, when they were trying to sort out what to do with the Houses who betrayed (deceased) Robb Stark, the war in the  South, and the arrival of winter. I'm just going to get it out of the way and say that women should talk over men like they talk over us all the damn time. Brava, sis.
She even shut down Littlefinger when he tried to whisper bitternothings into her ear about her right to be Queen of the North. I live!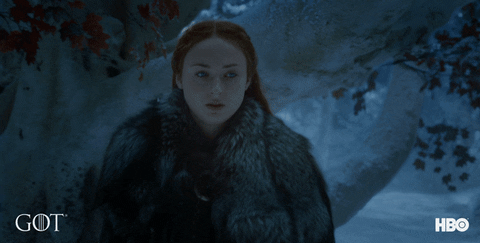 3.
Lyanna Mormont:
I said this before and I'll say it again, Lyanna might just make me believe white women can do this feminism thing right. Instead of rallying behind a Scarlett Johanssen–white women need to cape and learn from House Mormont.
Lyanna was involved in what seemed to be a community forum with Jon Snow. When I tell you she got those older folks together! She's stern and no one questions her judgement. She is defying the conventional notions of age and sound judgement.  Lyanna will always have the final word, and who gon' check her?
4. Brienne of Tarth:
I always have to collect myself when Brienne walks into scene. Her character is bae-incarnate.
When she is not trying to help poor Podrick learn how to fight, she is right behind Sansa ready to snatch anyone who dares to harm her. This season, Brienne is in charge of protecting Sansa. Brienne came through with the, "Why is he [Littlefinger]  still here?" It reminds me of when your friend just broke up with her boyfriend, but he's still coming over to pick up the rest of his *things* and you have to check her asking him why he's still there. Brienne is that girl who is going to hold you accountable.