Dubbing the sudden absence of predatory men as the categorical dimming of some bright, new era rings of a false equivalency for many marginalized viewers. 
If you have remained plugged into our daily Hollywood news cycle, it might seem as if each day brings a newly exposed sexual predator. While that may sound like hyperbole, the sentiment is actually not that inaccurate: since news of
Harvey Weinstein
's history of assault broke via major press in early October, dozens of celebrity abusers have been publicly identified by their victims.
As an audience, our responses to the steady stream of stories have run the gamut – especially for those of us who have our own experiences with sexual abuse. Though some remain focused on the specific trauma (and to be clear, the well-being of the victims ought to be our collective priority), others have their sights set on the potential aftermath. What does all of this mean for Hollywood and the state of entertainment, in general?
As we witness the rightful takedown of critically acclaimed men like Kevin Spacey and
Louis C.K.
, many have wondered how this continued exposure of Hollywood's predatory culture will affect the entertainment landscape, especially within television. Recently, TV critic Ben Travers of
IndieWire
noted Hollywood's current purge as a mark of permanent change to, in his words, "the new golden age of television." To his credit, Travers is careful not to cite the onslaught of shamed men as the end of premium entertainment, but rather a potential opportunity for a more inclusive industry. That specific hope echoes those of many BIPOC creators who have been working diligently against the very climate that has systemically
boxed them out
of opportunities.  
Yes, these white girls have it hard. Shocking as both shows are, I'm acutely aware that what I'm seeing is a best-case scenario.
By Aarushi Agni
Elisabeth Moss stars in the Hulu original series, 
The Handmaid's Tale
, based on the 1985 Margaret Atwood novel. Moss is also known for another 'strong female' role – that of the enterprising secretary turned copywriter on
Mad Men
, the trailblazing AMC period drama.
When
Mad Men
premiered, I was a 16-year-old budding brown woman, blissfully unaware of the male gaze. It was 2007, and T-shirts were more likely to be emblazoned with words like "angel" or "cutie" than "This is what a feminist looks like." When friends recommended I watch
Mad Men, 
I dismissed them, seeing the slow-paced television show set in a 1960's Manhattan ad agency as more backwards than nostalgic.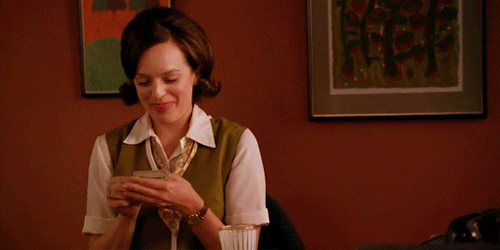 A decade later, getting sucked into
The Handmaid's Tale
led me to consider Elisabeth Moss in a way I hadn't before. In my thinkpiece-and-podcast tour of the show, I stumbled onto many allusions to
Mad Men
. Heavy sigh. It was time for me to check that shit out.