Rihanna is more than just her body, her work as a fashion mogul, artist and philanthropist should be enough to shield her from sexist criticism.
By Moeima Makeba
Of all the things Rihanna has been called, being The World's Most Marketable Celebrity is probably the one people know the least about. What that means is that whatever Rihanna endorses becomes more valuable and sellable to a wide market. Rihanna has mass-appeal.
Rihanna's fashion sense is unique and versatile, which is why brands like Chopard and Puma both make sense for her, Bad Gal RiRi is a chameleon. In 2014, Rihanna was named Fashion Icon of the Year by the CFDA, so the cred is there. Black and brown folks love her, white people love her and it's pretty hard to find someone who doesn't at the very least, like her.
Beyond likability, Rihanna is a BAWSE, a mogul and a shrewd business person. According to Forbes, Rihanna's alliance with Puma increased their profits by 11.2% within the year. Her shoe designs literally sell out within minutes.
So then why the fuck is Rihanna subjected to sexist comments about her weight? In a post from late May, a shitty men's publication called Barstool Sports published and then deleted a body-shaming piece about Rihanna. Here is a photo version of the article saved by Deadspin.
The writer, Chris Spagnuolo and his disgusting take of Rihanna titled "Is Rihanna Making Fat the Hot New Trend?" ended up with his suspension from Barstool Sports. Granted, if you take a look at the "Girls" section of their site, it's surprising that he was suspended at all. But ass-face Spagnuolo has been documenting his suspension on Twitter like any misogynistic, vengeful butthole would.
BREAKING NEWS: @ChrisSpags suspended from blogging indefinitely

— Deke Zucker (@Barstool_Quotes) June 1, 2017
Breaking: My boss can't handle getting called out in Cosmo now that he's trying to fuck anyyone who reads Teen Vogue https://t.co/b3bHBrt4YI

— Chris Spags (@ChrisSpags) June 1, 2017
As if it isn't enough that a white man is flexing his white gaze and disparaging a Black woman, the whole debacle is part of a larger problem. White beauty standards and thinness are cherished by white women who try their best to adhere to it – and serve as a marker for all women who are systematically being judged by these imposed standards – that is in part because of cishet white men.
Being and staying attractive to cishet men affects women of all backgrounds in a myriad of ways. This includes being teased, mocked and shamed online to having to field rude comments in-person. In some cases it can have impact on our professions and livelihood, or in Rih's case, keeping a major part of her fan-base.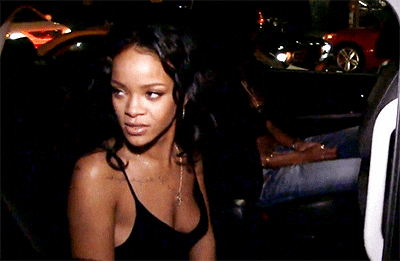 But her fans have clapped back to celebrate the thick in droves, comparing their own bodies to a woman who could easily be crowned the Queen of Sexy TODAY, Rihanna has proved to not only be empowering, but also marketable as fuck.
Rihanna so good hearted she thought if Bey is adding some weight I also need to add some ?? pic.twitter.com/0SkA9RMb35

— Angeli (@AngellAngelitah) May 25, 2017
Black girls celebrating the thickness of their bodies and celebrating Rih's puts the artist in a formidable position rarely seen in pop-culture and entertainment. Such support has proved that thickness is not sickness. Thick is beautiful.
But what does thick mean and to whom? 'Thick' to many Black people is a celebration of the most femme-centric traits: fullness of thighs, lusciousness of derrière, an ode to the curvature of hips. Black women are often written off as fat collectively, but if white beauty standards are the measure to what fatness is, weight gain of any kind is defined as a problem.
Whitewashed ideas of body positivity are a whole other issue of their own, but we can't analyze critiques of Black women's bodies within the framework set by white feminists. Ultimately patriarchal, white-centric beauty standards feed into the wheel of unattainable body goals.
Rihanna is more than just her body, her work as a fashion mogul, artist and philanthropist should be enough to shield her from sexist criticism, but we don't live in an intersectional feminist utopia. Fortunately the love and admiration from her fans is a battle won for the liberation of our bodies.
What a time to be alive.