Missy never needed men to help develop her talent. She was too busy crafting theirs.
By Tiffany Hobbs
In 1997, an innumerable mass of people took to their black trash bags in hopes of recreating the iconic look splashed all over their television screens that year. Never before had a tool of mundanity provoked such a response. But Missy knew what she was doing. In her finger waves, sexy Black-girl-curvy body, and brown skin, Melissa Arnette Elliott was the normal cute chick you'd see in traffic, at the nail salon, or thumbing through racks of denim at the local spots in Portsmouth, Virginia, where she grew up.
Missy "Misdemeanor" Elliott", as she came to be known in local music circles around her hometown, penned and produced for the likes of her childhood friend and lauded producer, Timbaland. She also worked with a girl group called Sista, as well as with popular artists such as Gina Thompson, SWV, Sean "Puffy" Combs, and a then-burgeoning artist by the name of Aaliyah. A shy singer/songwriter, herself, Missy worked constantly to create a sound for herself and for others, but she wouldn't dare sing in front of anyone except the studio engineer.
Behind that shyness existed an influential artist with an intimate understanding of her own image and how she would navigate the music world as a woman, and she burst onto the music scene in a way that diverted focus from her body by shrouding herself in the most obscure way possible—by wearing a black trash bag that rendered her essentially shapeless. It was in this way that Missy's musical identity would take its own shape. Her debut visual for "The Rain (Supa Dupa Fly)"—directed by famed creative, Hype Williams—would require audiences to look beyond the expectation of showing skin that many people in the industry pushed for as a strategy of gaining popularity in the entertainment industry.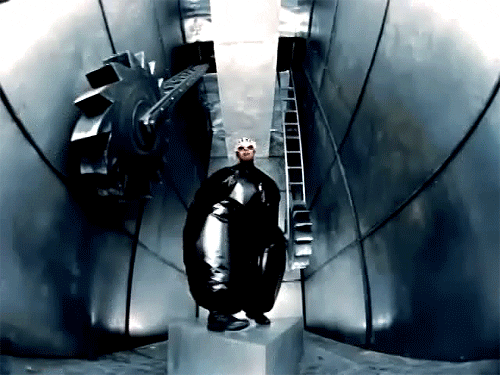 The image of a brown-skinned Black woman who was not thin was a contrast to the thin, lighter skinned, and oftentimes racially ambiguous Black women who dominated media images. She came in with the ability to control her own image in a way that deprived the male gaze of its typical pleasures. This in itself was groundbreaking, and it would undoubtedly provide the basis for framing what would become an expectation-shattering career.
"I mean, everybody wearin' tracks, so I just had to do something different. It was either this or the Jheri Curl…And you know it wasn't gone be no Jheri Curl!" – Missy Elliott, SPIN Magazine, 1997
There is a popular trope which continues to posit a man in any story of a woman's triumph to seemingly prove the dependency that modernity has on male-hood as a qualifier of women's strength. It is almost as if "woman" cannot exist separate from "man" for the existentially stunted, and such a thought is very common in the back stories of formidable women like Missy Elliott. But this woman surpassed the odds and created a world for herself within an industry that continually gravitates toward and promotes toxic masculinity, propping up men as the gatekeepers and validators of all things, especially women. Even more specifically, women's artistry.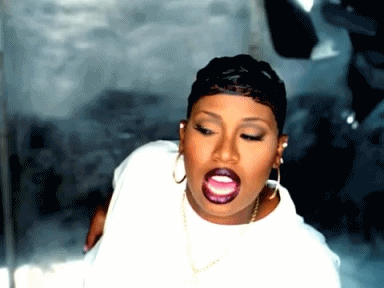 Missy never needed men to help develop her talent. She was too busy crafting theirs. And because of her influence, the music industry's entire trajectory was altered in the 90s—a decade where Urban music was the most rewarded. Many artists became students of Missy's training, with her writing and producing countless Billboard Top 100 hits well into the 2000's. She has bragging rights to 9 tracks on Aaliyah's best-selling second album, "One in A Million", multiple albums for hit R&B group, Joseph. Heavily decorated singers like Whitney Houston, Beyoncé, Mariah Carey, superstar Janet Jackson, rappers Busta Rhymes, Nas, and Eminem, "girl-groups" Total and 702, and many others' careers have taken shape in the wake of a black trash bag, achieving significant fame and awards because of that Black woman magic.
Missy is one of your favorite rapper/singer/producer's favorite artists, and she deserves that title. Many wouldn't be here if it weren't for the coolness of Missy and her fingerwaves in the early 90s. And today, having maintained a music industry career that spans decades, gaining her award after award, accolade after accolade, that chick with the big smile, hoop earrings, and cool-as-hell outfits that the boys both wanted to wear and get under, is still above the expectations. Everyone still clamors to share a stage with her because she, like her vision, has made and continues to make everything into a better version of what it might have remained. And nobody is better at looking ahead than Missy Elliott.
Artwork by Dania Alexis
This article was made possible thanks to support from our readers on Patreon — join us for exclusive weekly content!
---
SUPPORT WEAR YOUR VOICE MAGAZINE | SUPPORT BLACK AND BROWN CREATIVES
Wear Your Voice is a women and femmes of color curated magazine. We are independent and self-funded, but now we need you to keep us up and running!
Our monthly fundraising goal: $5,000
Any amount is welcome, here is where you can support us:
Patreon: patreon.com/wearyourvoice
Paypal: paypal.me/wearyourvoice
Venmo: @wear-your-voice
Donations aren't your thing? That's OK! We have a shop where you can purchase original Wear Your Voice merch created just for you: shopwyv.com
Independent media by people of color is essential — help us support our staff and writers.