While the majority of the nominees and winners reflected a very white ideal within the entertainment industry, there were some powerful wins.
By Thelma Rose
The 75th Golden Globes saw women taking representation and resources for non-men into their own hands with,  #TIMESUP, an organization and initiative aimed at providing resources for victims of harassment and sexual assault across industries.
#TIMESUP – Together we can end harassment, discrimination and abuse from the power imbalances we all face in the workplace. #WhyWeWearBlack and tell us why you stand with @TIMESUPNOW Love you : @RWitherspoon @iamrashidajones @kerrywashington @TessaThompson_x @TraceeEllisRoss pic.twitter.com/gfPMMgv9Ap

— Brie Larson (@brielarson) January 7, 2018
Attendees were encouraged to wear black as a show of solidarity and protest after months of tumultuous news cycles surrounding perpetrators of assault and harassment in Hollywood and literally everywhere else. But beyond #TIMESUP and #MeToo (shout out to Tarana Burke) — how did the Globes themselves measure up?
Hello,
My name is Thelma and I'll be your host for this article. How you guys doing this Monday morning? Good? Good. Since I'll probably never attend the Golden Globes, (although I'll be speaking it into existence… yaas GAGA), I'll be listing my own winners and losers of the night. Not in terms of who did and did not take home the actual Golden award, but in how each category won or lost in representing the diversity that is our country. Buckle your seatbelts, 'cause it's a bumpy ride.
WINNERS
OPRAH  
Oh Oprah. I can't… words… I'm crying…this woman… just watch.
Accepting the Cecil B. de Mille Award, Oprah became the first black woman to do so. In her tear-jerking speech Oprah expressed what so many Black women feel, "In 1982, Sidney [Poitier] received the Cecil B. DeMille Award right here at the Golden Globes, and it is not lost on me that at this moment, there are some little girls watching as I become the first black woman to be given this same award."
In just a few moments this woman educated us, she empowered us, she made us cry and she gave us hope. 
Seth Meyers
The BRILLIANT Seth Meyers hosted this year's awards, and I'm going to repeat brilliant because he was *snaps* everything *snaps.* Meyers was aware of the #TimesUp situation, his role within it as a straight white male entertainer and immediately took a stand with his monologue. From genuine statements of #TimesUp solidarity, to clever comedic one-liners and even better brutal insults, there's nothing sexier than a man who exemplifies inclusivity. *ovaries quiver*
(White) Women
The Golden Globes celebrated characters with depth and situations we women exhibit and consistently endure. Nicole Kidman and Laura Dern won for Best Actress and Best Supporting Actress in a Limited Series for "Big Little Lies". This show — that deserves your HBO trial more than GoT imo — is not ordinary in its creation, its production, its characters or its talent. It is female-driven and produced. Both Nicole and Laura's characters delved into the complexities of womanhood—spousal abuse, feminine strength, emotional burdens and female friendship.
Each component was especially appropriate this year, not just in entertainment, but realistically world-wide (hello Women's March 2017). In what Kidman beautifully said, "This character that I played represents something that is the center of our conversation right now: abuse. I do believe and I hope that we can elicit change through the stories we tell and the way we tell them."
Continuing with female characters just straight-up kicking ass, Elizabeth Moss's win for Best Actress in TV Series, Drama let the world know that we women "… are writing the story ourselves." Her role in "The Handmaid's Tale", (which also won Best Series, Drama) describes her character's strides to overcome the sexual, emotional and physical suppression of women by men in what is meant to be a fictional future, but is truthfully all too familiar to women today.
There's a special place in my all-girls Catholic high school heart for Greta Gerwig and "Lady Bird". Though the film won Best Picture, Comedy, Greta was sadly not even nominated for best director for the film, in which she wrote and directed. A female director snub—which Queen Barbra Streisand was not here for as the only female director in Globes history, she reminded the audience and the Hollywood Foreign Press that #TimesUp for that nonsense.
Sterling K Brown & Aziz Ansari
Competing in what left Black and brown men the token nominees of their categories,"This Is Us" star Sterling K. Brown, (Best Actor in TV Series, Drama) and star and co-creator of "Master of None" Aziz Ansari (Best Actor in TV Series, Comedy), made history, being the first African-American and Asian-American men to win in those categories! In his acceptance speech, Brown thanked creator Dan Fogelman, "You wrote a role for a black man that could only be played by a black man, and what I appreciate so much about this thing is I'm being seen for who I am and being appreciated for who I am."
However amazing it is that Brown and Ansari won, it is also sad that in 75 years, with 75 winners, there has only been room for one non-white person up until now. Do better Globes. Do. Better.
Alexander Skarsgård
Don't @ me, hear me out!!! Swedish Daddy Alexander won Best Supporting Actor in TV Limited Series for his role as abusive husband, Perry Wright in "Big Little Lies". Playing a symbolic, yet very literal villain, his character exposes the type of man and power-struggle relationship all women have encountered in some aspect of our (romantic, academic, or workplace) lives. His character gave a realistic insight into what it is like to be a woman on the receiving end of a male dominated world.
LOSERS
As empowering as the winners were, there were some hard no's and nice-tries this year at the Golden Globes.
All-White Categories
There were SEVERAL categories honoring exclusively white nominees that did not go unnoticed. Excluding group cast nominations, score, and animation, they were:
"Best Actress in Limited TV Series, Best Supporting Actor in Motion Picture (MP), Best Actress in TV Drama, Best Supporting Actor in Limited TV Series, Best Supporting Actress in Limited TV Series, Best Actor in Limited TV Series, Best Actress in MP Comedy, and Best Actress in MP Drama."
Although honoring the roles of empowering women was the theme of the night (as well as the powerful performances by men), it was obvious that the Globes still represented the white narrative.
Our 2017 #WordOfTheYear is 'feminism.' https://t.co/DIZC3WzYCg pic.twitter.com/pCHmNrMFLx

— Merriam-Webster (@MerriamWebster) December 13, 2017
It is 2018. You are telling me that of all the various forms of entertainment genres and content, and its numerous platforms like Netflix, Hulu, YouTube, Amazon, network and cable, the Globes couldn't be more diverse?
And don't even get me started on the nominees for Best Director….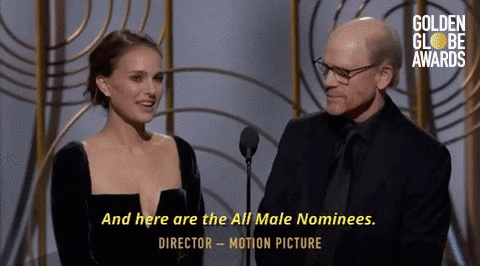 Ava Duvernay, Patti Jenkins and alike, we need you now more than ever.
James Franco
James Franco won for Best Actor in Comedy/Musical… *Le Sigh* Where do I begin?
As an undergraduate film major, we watched "The Room" as a cautionary tale of what not to do. This is not to say that Franco did not work hard at his craft of becoming "The Disaster Artist", because he clearly did. The research and dedication he had to playing this character was good.
I mean, I get it— the American message to "never give up on your dreams!" has always been a fan favorite. But this movie at its core, especially in comparison to the other nominees, falls incredibly short. Without a doubt. What's that saying? Stop beating a dead horse? That's what should've happened here.
Why are we celebrating the mediocre storyline of a rich and untalented man who didn't get his way when there are stories of societal reality ("Get Out"), musical genius ("The Greatest Showman"), superb editing ("Baby Driver") and gender-defying triumphs ("Battle of the Sexes") also in the running? Oh that's right, we shouldn't.
"Get Out"'s "Comedy" Category
'Get Out' is a documentary.

— Jordan Peele (@JordanPeele) November 15, 2017
If you have yet to see "Get Out", I will tell you this only spoiler: It is NOT a comedy. Yes there is a character named Rod who spews a couple funny lines, but in its entirity, his only purpose is to be the periodic comedic relief to the dramatic, utterly depressing, socially agonizing experience that is this film. And because "Get Out" is neither a comedy nor a musical, it lost any hopes of taking home a Golden Globe before it had even a chance. How could a film that is not a Comedy, win as a Comedy? For Jordan Peele's film to win in this category would have been disappointing, but to see it lose was an even bigger one.
Call Me By Your Name
A beautifully told and executed film (nominated for Best Motion Picture) by director Luca Guadagnino, starring the talented Armie Hammer (nominated for Best Supporting Actor in a motion picture), and Timothée Chalamet (nominated for Best Actor in a motion picture), received absolutely no love from the Golden Globes despite three nominations.
For a full list of the Golden Globes nominees and winners, click here.
Author Bio: World traveler. Bacon enthusiast. Kelly Ripa hopeful. But don't let her elderly, cinematic name fool you, Thelma's a fiesty one. With an undergraduate degree in Film & Visual Media, and a Masters degree in Broadcasting Communications from San Francisco, Thelma is ferociously building her empire. As a first-generation African-American, Thelma is passionate about social justice, gender, racial and sexual inclusivity. But just like any other multi-dimensional millennial she is obsessed with white wine, 90s nostalgia and occasionally agreeing with her horoscope. Instagram/Twitter: @_speakmystyle
[adsense1]