I'd like to start off my review of Ghostbusters 2016 — which opens today — by getting some things out of the way right off the bat:
1. I am a huge fan of the original Ghostbusters and have seen it probably more times than any other film; randomly quoting lines like, "Listen! You smell something?" and "When someone asks you if you're a god, you say YES!" was an everyday part of my childhood.
2. When I heard Sony was producing a Ghostbusters reboot with an all-female cast, I that sounded like a fabulous idea, unlike some people.
3. I really hated the Ghostbusters 2016 trailer. It felt like a disappointing series of played-out female-comedy tropes: Kristen Wiig talking about getting ectoplasm in "every crack," Wiig and Melissa McCarthy apologizing to each other about taking charge of the team; Leslie Jones slapping McCarthy's face to shake a ghost out of her body. That kind of stuff.
I knew it was unlikely that any Ghostbusters reboot was going to be every bit as good as the original; let's face it, movies that funny, with so many excellent one-liners, don't come along very often — especially not once one of the comedy geniuses behind it (Harold Ramis) is gone. The original was that rare and specific mix of nerd humor, the paranormal and action that somehow appealed to everyone.
Although the all-female reboot can't and doesn't hold a candle to the original, it's mostly successful in combining those elements again for a movie that is frequently laugh-out-loud funny, engaging and ultimately satisfying. That's partly because of how many references to the original are thrown in, but Ghostbusters 2016, anchored by a strong cast of funny ladies, could stand on its own.
The new version isn't a faithful remake, but it does borrow its rhythm from the 1984 version. It opens in a historic Manhattan spot — the Aldridge Mansion Museum, in this case — as a tour guide (played hilariously by Silicon Valley actor Zach Woods) leads a group of people around the site. After the mansion's notoriously murderous ghost scares the crap out of Woods, three of the Ghostbusters — fresh from being ousted from their respective universities — show up to investigate. The seemingly mild-mannered spook projectile-vomits ectoplasm all over Wiig's character, they get good footage and an idea for a business catching ghosts, yadda yadda yadda.
However, the new version adds a human antagonist: a stereotypical pasty white loser dude (played by Neil Casey) who has figured out how to harness paranormal energy and channel it to mystical spots in Manhattan. The everyday dismissal that women face — as scientists, but particularly as believers in the paranormal — is a key theme throughout the film; Wiig tells stories about being teased as a ghost-seeing girl and the Ghostbusters recoil at the mean, sexist comments on their YouTube videos. As they face off against Casey and his evil specters, it's hard not to see the story as an analogy for how women might someday triumph over misogynist trolls.
Related: The New Ghostbusters Reboot Trailer Has Outed Your Secretly Sexist Friends
Wiig and McCarthy are OK as the twin leads, pair of paranormally inclined scientists who were besties in high school. But their chemistry together isn't great, and their rapport too often dissolves into annoying — and annoyingly stereotypical — bickering. Meanwhile, Kate McKinnon is the breakout performer in the Ghostbusters reboot, riffing on Ramis' Egon Spengler, down to the bald-faced geekery, glasses and towering tuft of hair. McKinnon steals every scene she's in, bristling with charisma and engineering swagger, whether she's unveiling her new anti-ghost weaponry or lip-syncing to DeBarge's "Rhythm of the Night." Her gun-slinging during the film's big ghost battle is worth the price of admission alone.
But. BUT. The reboot repeats one of the biggest problems with the original by making the only actor of color — Jones, in this case — the non-scientific, working-class sidekick who joins the Ghostbusters pretty much as hired help. Given the chance to make Jones one of the brilliant academics of the film, instead she's an MTA employee who happens to know a bunch about New York history and can hook the crew up with a car. Jones herself has said she has no problem playing the laywoman of the movie, but other women of color are saying it's really racist.
It also adds another problem: Chris Helmsworth's secretary character is a dumb slab of beefcake who's totally into his own looks but can't figure out how to answer a telephone correctly. Doing a gender reversal on a worn sexist trope (Annie Potts had the original role) doesn't make it feminist; it just makes it differently sexist. Helmsworth gets to play with a different persona towards the end of the film, but that doesn't forgive the rest.
Ultimately, the Ghostbusters reboot is worth seeing. Its new take on the 30-year-old original highlight the basic tale's strengths and weaknesses, both as a paranormal comedy and as a story about offbeat scientists saving a naysaying metropolis from itself. Neither film is perfect. The new version is less perfect. But it has its own surprising moments — both of the laugh-out-loud and clutch-your-seat varieties — and it has Kate McKinnon. Her performance alone will haunt you.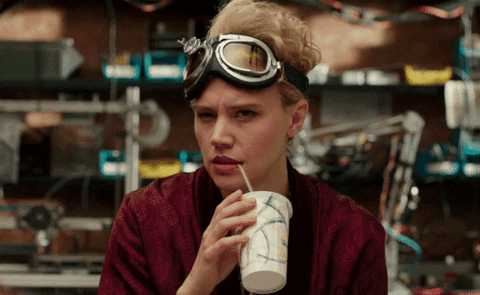 [adsense1]