He sneered at social convention, and celebrated sexuality while sporting platform heels and a face beat to the gawds.
Prince Rogers Nelson was supposed to turn 59 years old today.
Birthdays didn't mean much to the genre and gender-bending musician though. In a 1999 interview, he told Dutch TV host Ivo Niehe, "I don't celebrate birthdays so that stops me from counting days, which stops me from counting time, which allows me to still look the same as I did 10 years ago." In the video, he looks over his sunglasses and shimmies for the audience as proof.
There was a time when Prince seemed not just ageless, but immortal. Despite his raunchy catalogue of music, there was a purity about him, a holiness if you will. You got the feeling that if he were to meet the Grim Reaper in a staring match – the hooded shadow man would only last a few seconds before bashfully skulking away.
None of us could have predicted that Prince would accidentally overdose on the painkiller Fentanyl less than two months shy of his 58th birthday. When he died, we were confronted not just with the realization that our hero was human, but tragically flawed just like us. We were left with unanswered questions that made us wonder how well we knew our favorite chart-topping chameleon. What kind of pain was he enduring that required a drug more lethal than heroin and morphine? We never got closure on the events leading up to Prince's death and the related police investigation is still open and active.
From the time I was first introduced to Prince as a child, I recognized an infinite quality that I knew not everyone possessed. Back then, my knowledge of music was limited to whatever my parents happened to be listening to, 60's and 70's soul mostly, sprinkled with current pop artists like Michael Jackson and Prince. To put it more simply: Black music.
Prince wasn't like the other Black musicians I listened to though. He was slight and petite, yet commanded attention on and off the stage. He sneered at social convention, and celebrated sexuality while sporting platform heels and a face beat to the gawds. He defied labels, and throughout his career moved effortlessly between rock, soul, r&b, hip-hop, and electronic music. He bested Warner Bros at their own game, and when they refused to release his backlog of music, he changed his name to an image combining the male and female symbols to avoid contractual obligations.
To a burgeoning young Blerd such as myself, Prince was the prototype. Growing up in a predominantly white Southern California suburb, I was struck with accusations of "you're not Black enough," early and often. I was simultaneously too Black and not Black enough for basically everyone at my school. Prince probably wouldn't have been my parent's first, second, or even third choice for a role model, but the way he wore his weirdness like a badge of pride encouraged me to do the same.
As his personal career soared, Prince used music as a vehicle to enact greater change in the world. Many of us remember his succinct yet powerful message when presenting at the 2015 Grammy's, "Like books and Black lives, albums still matter."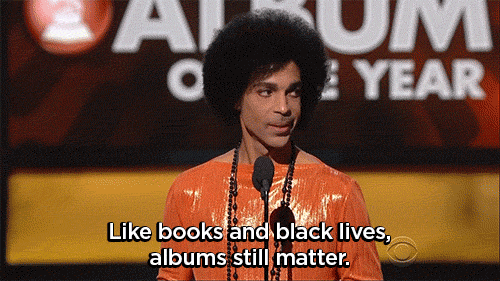 After the death of Freddie Gray, Prince threw additional weight behind those words with the release of his song "Baltimore" and a benefit concert held in the city. According to Rev. Al Sharpton, the artist used him as a messenger to quietly allocate funds to Trayvon Martin's family and similar causes.
In an interview with Rolling Stone, activist Van Jones described Prince's political leanings as "purple," insisting that "His cause was humanity," and that, "Nobody went to a Prince concert and said, 'I don't belong here. I'm not black. I'm not white. I'm not cool. I'm not straight. I'm not whatever.' His cause was empowering and uplifting people. That didn't stop when he walked off the stage or out of the studio. It was a current of genius trying to move the human heart."
What set Prince apart was not immortality, but his belief in our infinite ability to create. Turns out, my childhood hunch about Prince was only half-right. There's no denying his mystique, but just as we all battle our own individual demons, we all have unique gifts. We're only able to access them when, like Prince, we unapologetically embrace who we are.
#PrinceRIP I drew this tribute tonight. The world will miss you. pic.twitter.com/igaGk3kRrA

— Miss Fabulizz (@fabulizz) April 22, 2016
Prince dedicated his life not just to realizing his own potential, but to helping others reach theirs. When we live like that, we can begin to understand what his Purple Highness meant when he told Mel B during an interview at Paisley Park that, "I'll celebrate the day I die." Far from ominous, this quote expresses the good faith that when you wake up every day and live in your purpose, you leave this earth feeling unencumbered and free.
For those of us still coping with the loss of Prince, that's where closure can be found. It lies in the celebrations that are still to be had in his honor, the entire vault of music we've yet to discover. If Prince had any clues or messages for us, that's where he's hidden them – in the music. He wouldn't want us worrying about autopsy results or the details of his death. He would encourage us to fill whatever hole he left in our lives, to let his music heal us and to reach out and heal each other.

[adsense1]