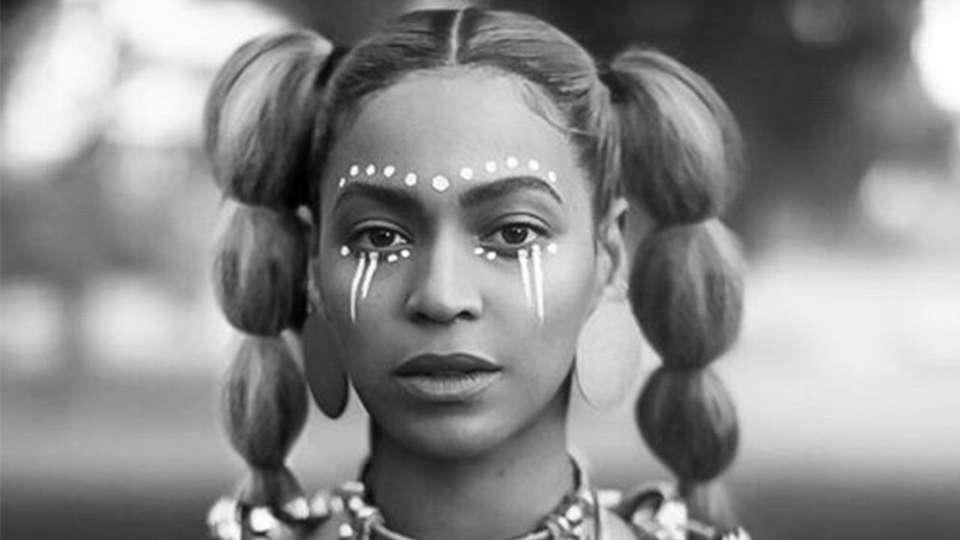 Beyoncé's Lemonade is a love story at its core. Despite the fabulous artistic direction, the initial draw is the candid tale of marital troubles between her and Jay-Z. Media murmurings of infidelity are confirmed with lyrics like:  "He only want me when I'm not there/He better call Becky with the good hair" and: "Uh this is your final warning/you know I give you life/If you try this shit again/You gon' lose your wife."
However, this visual album isn't just another piece of gossip for TMZ, nor is it merely another account of a black woman scorned. In the scene when she jumps to her own death, she's rescued by the water and emerges in a yellow dress. As WYV's Antwan Heron and Monica Cadena wrote, this scene was not meant just to be visually stimulating or "pretty." Yonce calls on her ancestors and pays homage to Oshun, the West African goddess of love and sweet waters, to begin the process of healing and reclaiming herself.
Her work displays a counter-narrative that transcends the single story portrayed by mainstream media of a strong black woman who takes no shit. Although she puts the call out on Jay-Z, the main theme isn't his infidelity. Beyoncé portrays an aspect of black women that's not often shown in mainstream media: vulnerability. Her work illustrates how all brave faces eventually fall and acknowledging pain isn't indulgent. Rather, it's a necessary step towards restoration and self-discovery.
Related: Bittersweet Like Me: When the Lemonade Ain't Made For Fat Black Women & Femmes
Lemonade isn't just about a boy. It's a woman's story of building castles in the sand, watching them disintegrate, and recovering, not just through individual resilience but through knowledge of self. It reflects a process of becoming, an unfinished and imperfect journey of hurt and healing that goes beyond merely one romantic relationship. It extends to themes of intergenerational trauma perpetuated by racism and patriarchy.
"Mother dearest let me inherit the Earth. Teach me how to make him beg. Let me make up for the years he made you wait. Did he bend your reflection? Did he make you forget your own name? Did he convince you he was a god?"
Lemonade's power lies not in the acknowledgment of pain, but in transcending it; not just making the best of a bad situation but creating greatness from it, something black women in this country have been doing for centuries.
"Grandmother. The alchemist. You spun gold out of his hard life. Conjured beauty from the things I left behind. Found healing where it did not live. Discovered the antidote in your own kitchen. Broke the curse with your own two hands. You passed these instructions down to your own daughter, who then passed them down to her daughter."
Many people hold a myopic view ofBeyoncé as a pop diva who simply slays on stage. They acknowledge her for putting on a great show and looking gorgeous while doing it. But if she doesn't stay within the boundaries set for her, she's criticized harshly. Piers Morgan, left-wing editor of MailOnline, wrote a scathing review of the visual album, accusing Beyoncé of  "playing the race card":
"The new Beyoncé wants to be seen as a black woman political activist first and foremost, entertainer and musician second. I still think she's a wonderful singer and performer, and some of the music on Lemonade is fantastic. But I have to be honest, I preferred the old Beyoncé. The less inflammatory, agitating one."
In other words, Piers Morgan liked it when Beyoncé stayed in her place. It was cute when she was singing club bangers like "Who Run the World" and "Independent Woman." It was palatable for  the masses, having a somewhat empowering message that was many times overshadowed by Eurocentric beauty standards and themes of capitalism. 
Related: It Wasn't My Husband's Girlfriend Who Betrayed Me: Why I'm Done Blaming the Other Woman
Her recent work not only challenges society's boundaries, but the boundaries she's set for herself in her professional and personal life. Merely acknowledging her black roots is a brave thing to do in these racially charged times, where anything considered pro-black is immediately construed as anti-white. But Bey does more than acknowledge her blackness; she revels in it. Beyonce gives zero fucks and her unapologetic attitude is like water in a desert for black women  and girls worldwide.
"Now that reconciliation is possible, if we're going to heal, let it be glorious. One thousand girls raise their arms. Do you remember being born? Are you thankful? Are the hips that cracked, the deep velvet of your mother, and her mother and her mother? There is a curse that will be broken."
Lemonade is more than a great visual album; it's intellectual discourse through artistry that focuses on the healing power of love — not just romantic love, but love of self, family and sisterhood.  This is why Lemonade is an epic love story.
[adsense1]