Afrofuturism creates stories that puts Blackness in a central role and deals with the reality of what that means in the cultures and societies that it creates.
When people think of science fiction as a genre, they're usually thinking of books about the coded fears and dreams of white men. Books that are considered masterpieces of science fiction by and large are written by them but the remedy from this pale and exists in Afrofuturism, the future as told by people of the African diaspora.
I first encountered Afrofuturism before I knew what it was. The term was coined in the 90s by Mark Dery as a way to explain the collection of speculative fiction and assorted media that was created from the point of view of Black people. I read my first Afrofuturistic novel in 1993. It was Octavia E Butler's Mind of My Mind. I would later find out it was part of a series, which I bought book by book from various bookstores as they had them in stock. It was the 90s. We didn't have Amazon.
These books were a different way to see science fiction. Never mind the most obvious fact that the covers featured a woman of color, but the stories themselves spoke of life in a completely different manner. Unlike the standard science fiction, these people weren't "Big Damn Heroes", they were people who weren't just dealing with their own internal and personal pressures,  but did so while navigating in a society that already distrusted them.
That's what's at the crux of what this particular literary style is. It's not just "stories that feature Black people as leading characters". They are stories that put Blackness in a central role and deals with the reality of what that means in the cultures and societies that it creates.
RELATED: Being Weird and Black Doesn't Mean You're Interested in Being White
And it's not just science fiction. While science fiction authors are some of the most famous, Afrofuturism covers many types of speculative fiction such as fantasy, magic realism, or alt-history. These subgenres are referred to by names such as "Steamfunk" or "Sword and Soul" to call back to their Black roots.
It's also important to note that these stories contain elements that are not from Western cosmologies. They are often built upon worlds that do not put the white experience and belief systems at the base, instead incorporating myths, legends, and storytelling techniques from other cultures.
Afrofuturism is not just confined to literature, it is a multi-media movement, and its roots can be found in music and art as well. Sun Ra is perhaps one of the earliest Afrofuturistic musicians, his work is what laid the ground for the, perhaps, more famous George Clinton's bands Parliament and Funkadelic. Artists such as Jean-Michel Basquiat also incorporated elements of Afrofuturism into their work.
Still, I think books give the best gateway into this important genre so here are five to get you started.
1. Dark Matter: A Century of Speculative Fiction from the African Diaspora edited by Sheree Thomas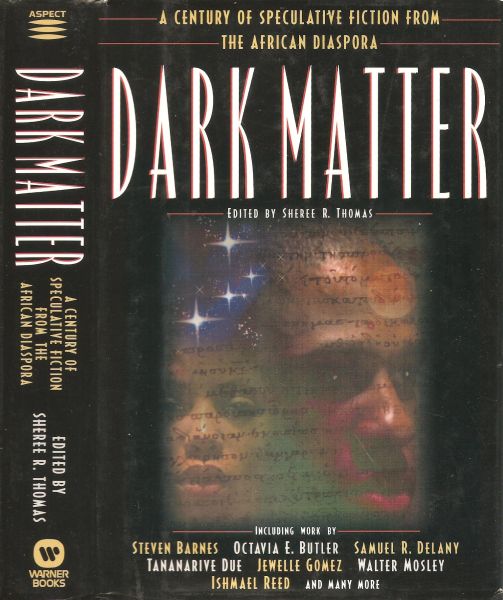 This is THE anthology of Afrofuturism. It includes the classic stories, some published as far back as the 1920s. This is a volume of short stories and features some of the other authors that appear on this list, such as Samuel R. Delaney. The themes and foci of the tales span a vast area showing off the diversity of the genre.
2. Seed to Harvest (Patternist #1-4) by Octavia E. Butler
This is actually four books (I'm cheating a bit). Some would suggest Kindred, her meditation on time travel and slavery as a place to start but I think this is a much better series. It's hardcore science fiction told from the point of view of Black people throughout the centuries as they change and adapt to an increasingly hostile world, both from the physical and social environment.
3. Dhalgren by Samuel R. Delaney
This is not an easy book to get through. It's a monolith of 801 pages, a sprawling labyrinth of tunnels and asides, much like the city that serves as its setting. Delaney's world is full of shifting people and wild sexuality is an amazing journey well worth engaging in. This book is more of a meditation than a story and the plot is hard to explain but it will stay with you if you make it to the end.
4. The Gilda Stories by Jewelle L. Gomez
What does endless life look like in America when you're Black? How do deal with the trauma of slavery over centuries? Gilda, the title character, wrestles with this in this unique telling of a vampire story. The reader follows Gilda through various stages of her long life, jumping decades at a time in a linear narrative. This book does an excellent side of showing a different take on the genre.  Gilda is queer, a wonderful addition to vampire mythos.   
5. Mothership: Tales from Afrofuturism and Beyond edited by Bill Campbell, Edward Austin Hall and more.
I started with an anthology and I'm ending with one. Where Dark Matter tells you where the movement started, Mothership tells you were it's going. Writers such as Junot Dias and N.K. Jemisin are published in this tome as well as other voices that are considered to be the new masters of this genre. Like the previously mentioned anthology, these stories run the gamut but they will also show you how much variety and imagination is in this genre.
This is just the beginning of what Afrofuturism has to offer. There's so much out there and there is no one right way to capture it. If you don't find what you're looking for in these five works, keep digging, and if you still don't see the representation of Blackness that you need in your life, write it, film it, paint it, sing it. Add your voice and vision, we want to see it!
Featured Image: Mothership: Tales from Afrofuturism and Beyond edited by Bill Campbell
[adsense1]