I know these past couple of weeks have been tough, and we've all been mobilized into action to fight even harder for our rights and belief in justice.
But we all also have downtime. In fact, we all need it to take care of our mental health and overall well-being. And I've found that watching things that give a glimpse into vastly alternate realities are, if not just a good way to keep us a bit grounded, a way to commiserate about our currently heinous state of affairs.
And so I offer these as escapism from the daily trauma that is now American life, in the hope that it may lift your spirit and inspire you to see that, even in worlds wildly different from ours — facing just as much, if not more, unrest — justice can prevail.
1. Independence Day: Resurgence (2016)
I chose the second Independence Day because a) I haven't seen it yet, b) I heard it was kind of a flop and so, c) it could be appropriate, all things considered. Who knows, one man's hot pile of garbage is another's cult classic. ¯\_(ツ)_/¯
2. Waterworld (1995)
An actual classic that has its very own attraction at universal studios, so you know it's a big deal. This movie taught me that you can, and in fact may, have to drink your own urine one day. A lesson I feel is both reassuring AND shiver-inducing.

3. Mad Max: Fury Road (2015)
Because it was the first film that was meant for dudes but was actually all about female empowerment! LOL remember that one, menninists??? #neverforget!
4. Upside Down (2012)
Because it's sappy and completely defies the laws of both gravity and all reality (I mean, really — in what world would they not have kept leading man Jim Sturgess' dreamy British accent?).
5. Black Mirror (2014-)
OK, I know this is a series but it's, like, so much more than that. It's an anthology series, it's a Netflix original, and — does it sound complicated enough to make it sound super art-housy and cutting edge? Good, 'cause it kind of is. So watch it.
6. Resident Evil: Extinction (2007)
This is honestly the only one I've seen, and I personally love seeing Las Vegas as the desecrated background because f**k capitalism, amirite??? #lowkey #butforreal
7. Book of Eli (2010)

Because the biblical reference is lost on just how entrancing this whole movie is, from the way it's shot to the attention to character development and the chops we see from Mila Kunis, who slays compared to Denzel. Sorry, another strong lady. #NOTSORRY.
8. Zombieland (2009)
Ugh, because it's seriously the most accurate portrayal IMO of how sh** would go down in the event of a zombie apocalypse. I would have to be super laid-back and make jokes and possibly get stoned at dead Bill Murray's house all the time just to get through the day. It makes sense to me.
9. I, Robot (2004)
Because Will Smith is kind of bae in this one. Plus, early 2000s versions of the future seem the most optimistic when you really think about it. Like everything in that was chill until the point where … ya know … it wasn't. MOVING ON.
10. I Am Legend (2007)
Oh, shit. OK, well, this Will Smith future film (how is Big Willy not lauded more as a sci-fi genre leading man, like honestly?) is one where you really have to struggle a teensy bit to find the message of hope. There are a lot of scary moments, but the fear of zombified people/dogs/lions is a nice break from the fears we now face in 2016 tbqh. I'd almost forgotten about it, too. Dammit.
11. The Purge: Election (2016)
This one is probably the most relevant to where I feel we may be headed, but it's nice to see that, even in the possibly near future, despite absolute madness, there's still the possibility for an end to it all. Ya know, minus the weird masks and elaborately playful murderousness of it all … ? #4MOREYEARS
12. Zootopia (2016)
Definitely the cutest option we have, with the best message and something we should definitely be remembering to show our kids to maybe help him them in this time of confusion and uncertainty. I cannot urge that enough.
13. Mockingjay Part 1 (2015)
Again, maybe a good one for the younger set — teens and tweens for sure will relate. A note for the whole series really. The themes of defiance in the face of hegemony and systemic justified murder aren't lost on this demographic. Remember that. They're seeing this. They get it.
14. Insurgent (2016)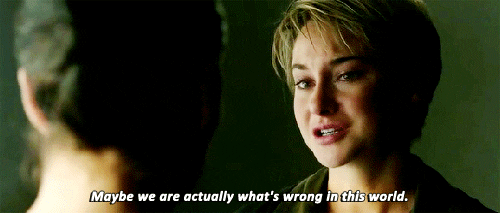 Oh yeah, this one too, I guess. (To all of my POC: no, it's not the same as Hunger Games, and yes, they are two different white girls.)
15. Day After Tomorrow (2004)
A stark reminder regarding why we need to fight for environmental reform, and quickly! Plus Emmy Rossum and Jake Gyllenhal are adorable. JS. This one is a classic for my 23-year-old self.
16. San Andreas (2015)
OMG, if you haven't seen this, especially for my Bay Area friends, I highly recommend it. It's Snakes On a Plane meets the above-mentioned DAT, and it's the cinematic equivalent of a theme park rollercoaster. It's good anxiety. Plus it's kind of scientifically completely inaccurate, and there is so much solace I think we can all find in that fact. ??
17. Rise of the Planet of the Apes (2011)
Proof that if we don't do something, the other creatures of this planet will. I'M JUST SAYING. #HarambeLives.
18. Avatar (2009)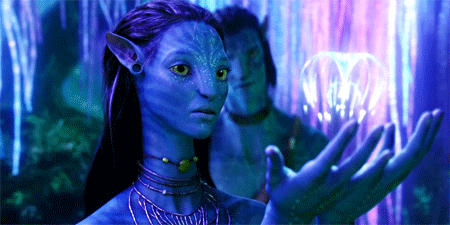 Because maybe we should all just jump ship and move to Mars. I hear it's a bit dry and the summers last for months, though, so maybe let's just stay here and try to salvage what's left of our own ecosystems?
19. District 9 (2008)
If Avatar wasn't enough of a reach for you, this one comes with the added benefit of seeing the oppressor become the oppressed, in case anyone was interested.
20. V for Vendetta (2005)
Extremely powerful, and has elements and sentiments adopted by both the anti-bank/elite Occupy Movement and the controversial justice hacking group Anonymous.
21. A Day Without a Mexican (2004)
Not as seemingly scary as the others — until you realize what the title alone entails, especially for Californians. Remember, this movie was also made in a time when the term "illegals" wasn't considered offensive. For my SJWs and Chicanx/Latinx folks, this might be the most horrific movie of them all.
22. Back to the Future II (1989)
Do I really even have to put this here? I mean, we're basically living it. (The second half, not the first.)
23. Citizen Kane (1941)
I've never actually seen this, but it's the greatest movie ever made, ALLEGEDLY, so it's probably good. And it may actually just reinforce what's going on now, who knows. Second thought, don't watch Citizen Kane. Maybe we can all just skip Citizen Kane.
24. Idiocracy (2006)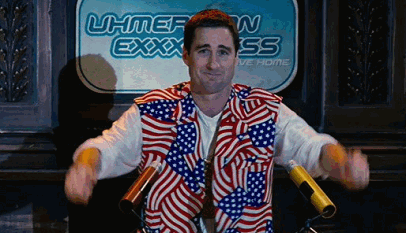 And for the movie that honestly inspired this list (and quite possibly inspired our President-elect to run in the first place), I give you the piece de resistance. The ultimate satirical take on politics, our declining collective intelligence and the most hilarious and now terrifying depictions of what could be in store for the country.
I hope this helps. If any of these movies or this list feel like they're flagrantly disregarding the serious nature the election, know that it comes from a place of needing to heal and to keep fighting. I'm not saying let's calm down, I'm saying let's effectively utilize our R&R before we gear up for change in our day-to-day.
[adsense1]